If you want to wow your readers, you have to offer them a wedding post that is the perfect blend of value, aesthetics, information and personality. In order to do this, you're going to need to meet certain criteria that accomplish these goals. The following anatomy of a perfect wedding post breaks down each section and gives you the perfect formula for creating a high quality wedding post.
Don't Miss Out on Great Readers Simply Because Your Post Isn't Formatted Well!
1) Compiling Your Research
Once you've chosen the topic of your wedding post, you're going to need to compile some research. One of the most important things you can do is search for other blog posts similar to the one you're creating. This will give you a great idea of what's already out there and what you need to do in order to create a superior post – even for a topic that has been done numerous times. For instance, you might be working on a post for vintage wedding dresses and you notice that none of the other posts you've found have vintage wedding dresses broken down by decade. This is an easy way to make your post superior. Research also allows you to accomplish several other things within your post, including:
Using an authoritative tone with your audience; being the "expert."
Gaining information that will allow you to speak to your target market in the correct way.
Obviously, it gives you the information you need to include in your post.
Gives you trending or popular topics.
There are a few great places to look for topics that are going to go over well. Reddit is an extremely popular website where users post forum-style about subjects of all kinds. This is a fantastic place to find out what's hot and trending in the wedding world. Google trends is also a wonderful place to find out what people are already talking about. This is the perfect way to tap into trends that are already creating
Suggested Resource: How to Find Trending Blog Topics Your Audience Will Actually Care About
2) The Title
The headline is one of the most important parts of the wedding post, because it's the "cover of the book." It's the first impression readers will get, and typically, from the title they will determine whether to keep reading or not. Jazzing up a title in order to get readers to move forward with the post isn't too difficult – just make sure you create a 'hook.' For instance, maybe you're creating a post about items brides should include in their wedding registry. Your first instinct is to name it 'Items Brides Should Include in Their Wedding Registry.' This isn't bad, but you can easily make the post more enticing in a few different ways.
Adding a number – "50 Items Brides Should Include in Their Wedding Registry"
Making those "items" must haves – "50 Must-Have Items For Every Bridal Registry"
Piquing their curiosity by making the list unusual – "50 Unusual Items Every Bride Should List on Her Wedding Registry"
By using these methods to make the title interesting, you can ensure that readers continue to the post.
Suggested Resource: 25+ Resources to Write Killer Headlines
Getting Into the "Meat of the Post"
3) Writing Your Post
The "meat of the post" consists of the opening, the subheadings and the content. This is where the real value comes in for the readers. There are several rules that you should stick to when writing this part of your post.
Always craft an interesting opening. The opening typically consists of 3-4 sentences in a paragraph at the very beginning of the post. It's essential that your opening is interesting because if it isn't, your readers will go no further.
Break your writing into sections, divided by sub-headings. This breaks the information down into chunks that your reader will more easily digest. Clicking on a blog post and seeing a huge wall of text is overwhelming, and readers aren't likely to tackle it. If the writing is broken down into neat, manageable sections, they are much more likely to read it.
Keep the information under each sub-heading relevant. Make sure each piece of content is directly related to the sub-heading it's under. This organization keeps the reader focused and makes sure they read all the way through.
Deliver what you promised. No matter what, always deliver what you promised. If you promised 50 Unusual Items that Belong on a Bridal Registry, make sure you deliver those 50 unusual items. This gains the reader's trust and ensures that they will come back to read more of your content.
Make your content share-worthy. Create interesting or fun blog posts that people want to share with others. A great example is our blog post '22 Benefits of Being Married: Laughs for a Soon- to-be-Bride' was a huge success on Pinterest, with more than 50,000 pins – all because it was interesting, funny and share-worthy.
Keeping those rules in mind, your post should be formatted this way: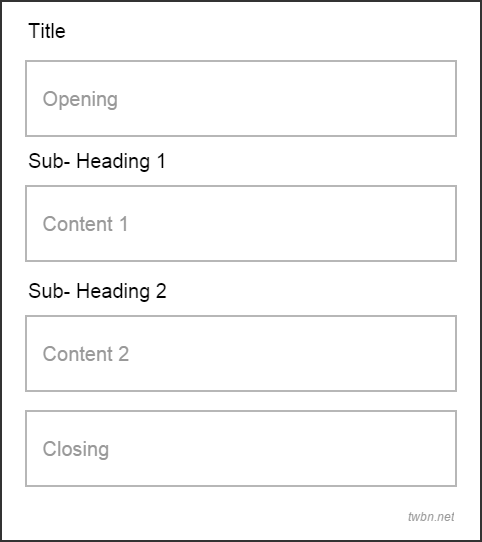 It's also important that your post fits within your own personal niche. For instance, if you're a blogger and you're offering summaries of information for interested readers, you'll likely have more collections than anything – Top 10 posts, How To posts, etc. If you're a photographer and you're posting photos of weddings you've worked, most of your posts are going to be photo-rich and aesthetically pleasing. Stick to what you know, and take advantage of your authoritative voice on the subject.
Suggested Resource: 16 Rules of Blog Writing and Layout
Your Post Should be Aesthetically Pleasing!
4) Images
I cannot stress enough how important images are for wedding posts. It's estimated that about 90% of information that goes into the brain is visual. Brides who are researching their weddings want to see what something will look like – this is why websites like Pinterest are so popular. Here's a great example. Which conveys the point better, the block of text below, or the image?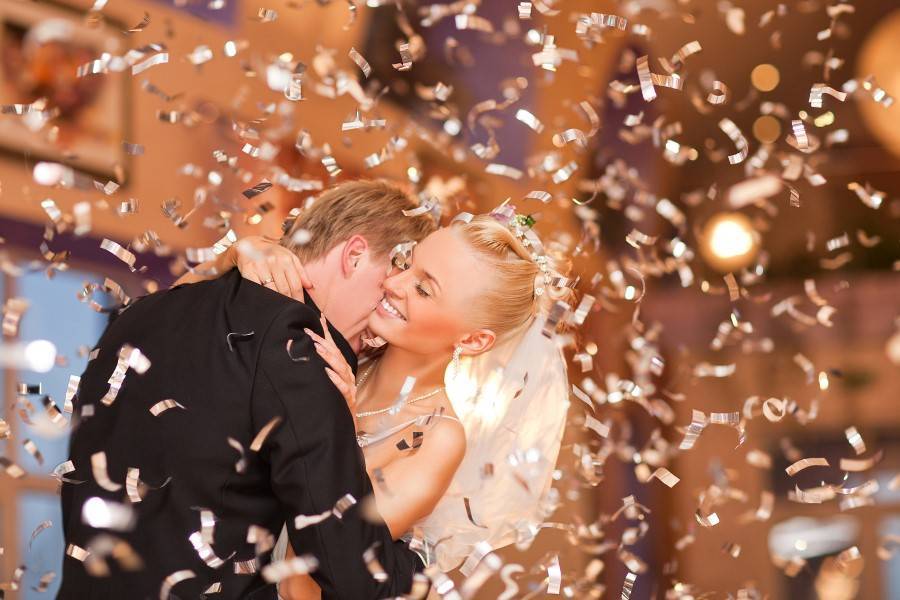 Ideas can be conveyed quickly and easily through images, making them essential to a great wedding post. A few general rules to follow for images include:
Make sure the size is adequate. Larger images with higher resolutions are the best option because they are attractive to the reader. Make sure the images are not pixilated or too small. It's best to opt for a picture size of 800 X 600 or larger.
Use a picture for every visual idea. If you're going to do a post about the types of wedding dress cuts available, you should have a picture to represent each cut.
Find large images through Google Image Search. Simply click on your 'search tools' button to show the drop down menu, and from 'size,' click on 'large.' This will ensure that only larger, higher-quality photos are shown.
Always include the image source. The last thing you want to do is steal images without including the proper source information.
Include at least one photo per sub-heading. This is really the minimum amount of pictures there
Suggested Resource: 6 Powerful Reasons Why You Should Include Images in Your Marketing
5) Linking to External/Internal Sources
Be careful when linking to outside sources. Sometimes it's necessary to link to outside sources in order to create a valuable article. In this case, you should choose only authoritative links. For instance, linking to Wikipedia, statistics websites and reference websites are great but linking to other blog posts or entertaining articles could lead readers away from your blog – the opposite of what you're trying to do!
It's a great idea to link to internal sources within your article. For instance, if there are a few relevant blog posts within your blog that relate to the one you're creating, linking to them can keep the reader on your blog for a longer amount of time. You should keep the external and internal links to a minimum – no more than 2 or 3 external links to reference sources and no more than 1 or 2 internal links to relevant
Suggested Resource: How to Add Links to Your Blog That Get Outstanding Results
6) Include a Call to Action
A "call to action" is telling your reader to do something at the end of the post; you lead them to the next step. What is your purpose with the post you're writing? Do you want your readers to sign up to your newsletter? Do you want them to call to set up an appointment? After delivering the value within the post, include the call to action at the end by telling the readers exactly what you want from them. A call to action can look like one of these examples:
Learn more by signing up for our free report!
Get more excellent tips like this right now by downloading your copy of our book – just $2.95!
Never miss a tip – sign up for our newsletter using the form below.
Like/Follow us for more interesting posts like this one!
When you include the call to action, you offer something to your readers in addition to the value you've already given them in the blog post, with your end goal in mind.
Suggested Resource: 21 Call to Action Examples and 3 Rules for Effective CTAs
By sticking to this format and following these tips, you can create the perfect wedding blog post that attracts readers, keeps them around and ensures that they come back to your blog in the future!
If you've enjoyed the information in this post, or have anything to add, we'd love to hear from you in the comments below.